How to improve your search ranking on vacation rental platforms
Some platforms make it easier for hosts to understand how their ranking algorithms work via sharing host performance metrics, while others may share more limited information on the actionable steps hosts need to take to improve their searchability. There are some differences in how each platform optimizes its search algorithm, but there are a few practices that serve as a rule of thumb for those who are looking to make sure their property comes up in searches. The number of views and bookings you get on a rental platform directly affects your search ranking. Implementing the following fundamental practices early on will help improve your ranking quickly by making sure your listing stands out in search results. Let's get started.
Include complete, up to date information about your property
Providing complete, clear information about your property is crucial. Guests want to be able to learn as much as possible about your listing: amenities offered, your hosting rules, and the overall look and feel of your property. Make sure to complete both visual and text fields to share lots of information with your potential guests, they really appreciate transparency and platforms will reward you for it.
Update information regularly
Don't fill out your listing once and forget about it, make sure to regularly update your listing. Guests will appreciate up-to-date information, and rental platforms tend to reward regularly updated listings in their search algorithms. It could be your pricing, amenities, brand new photos showing your decor or new attractions in the neighborhood, any new information is well-received.
Be extra attentive to your image portfolio
Your images are the first thing guests look at, way before they read your description or check your reviews. In fact, one of the main things that determine whether people decide to review your listing is the first few images they see during their initial search. Make sure to build a portfolio of high-quality images and choose your images strategically to accurately represent your property. You can keep a larger portfolio of images from which you can upload a subset depending on the season - amenities that attract guests during holiday season vs. summertime would be different. You can use different photos & change their order in a way that would highlight them appropriately.
A high-quality image portfolio is essential for showing up in search results.
Consider instant booking
Another measure rental platforms pay attention to is how many of your page visitors actually end up booking your place. While some hosts may be wary of using the instant booking option, it can help to boost your rankings by removing an additional barrier from the booking process. Closing as many bookings as possible at the beginning of your rental journey could help you collect those 5-star reviews and establish your business more quickly, while also improving your search ranking.
Instant booking can help you collect more 5-star reviews, especially useful when you first launch your listing.
Be responsive
Answering all guest questions and comments in a swift manner will help your business be recognized by the rental platforms. Remember, the success of the rental platform depends on matching serious guests with responsible hosts quickly and efficiently. If you do your part as a responsible host, the platform algorithms will more easily pick up on the value you provide to your guests and be more generous in recommending your business to suitable guests.
Minimize cancellations
Try to stick with your calendar as much as possible. Hosts with rare cancellations provide extra peace of mind for guests, and rental platforms tend to reward hosts who can provide such guarantees. This doesn't have to mean that you are punished for every cancellation. For example, for Airbnb's super host status your cancellation rate needs to be <1%. Apart from earning a higher host status, such practices help with your search ranking as well. Life happens and you may have proper reasons to cancel from time to time, but sticking to your calendar will strengthen your image as a reliable host.
Pay attention to pricing trends in your neighborhood
Pricing is a big factor in people's booking decisions, which is why you should regularly check the pricing trends in your area and adjust to stay competitive. Pricing too high or too low for your area may cause your property to be left out in guest searches, which would affect the number of views and bookings you get on your listings and hurt your search ranking over time.
Be intentional about collecting 5-star reviews
Manage guest expectations well and exceed them. This starts with a clear description of your place in your listing, and can be carried out with a nice welcome note, and being extra responsive to their messages/requests throughout their stay. No bad surprises are key here - make sure your images represent your place accurately, and all the amenities you promised on your listing are provided. Consistently under-promising and over-delivering is the proven way to maximize your 5-star reviews, essential to closing more bookings and creating trust with your potential guests.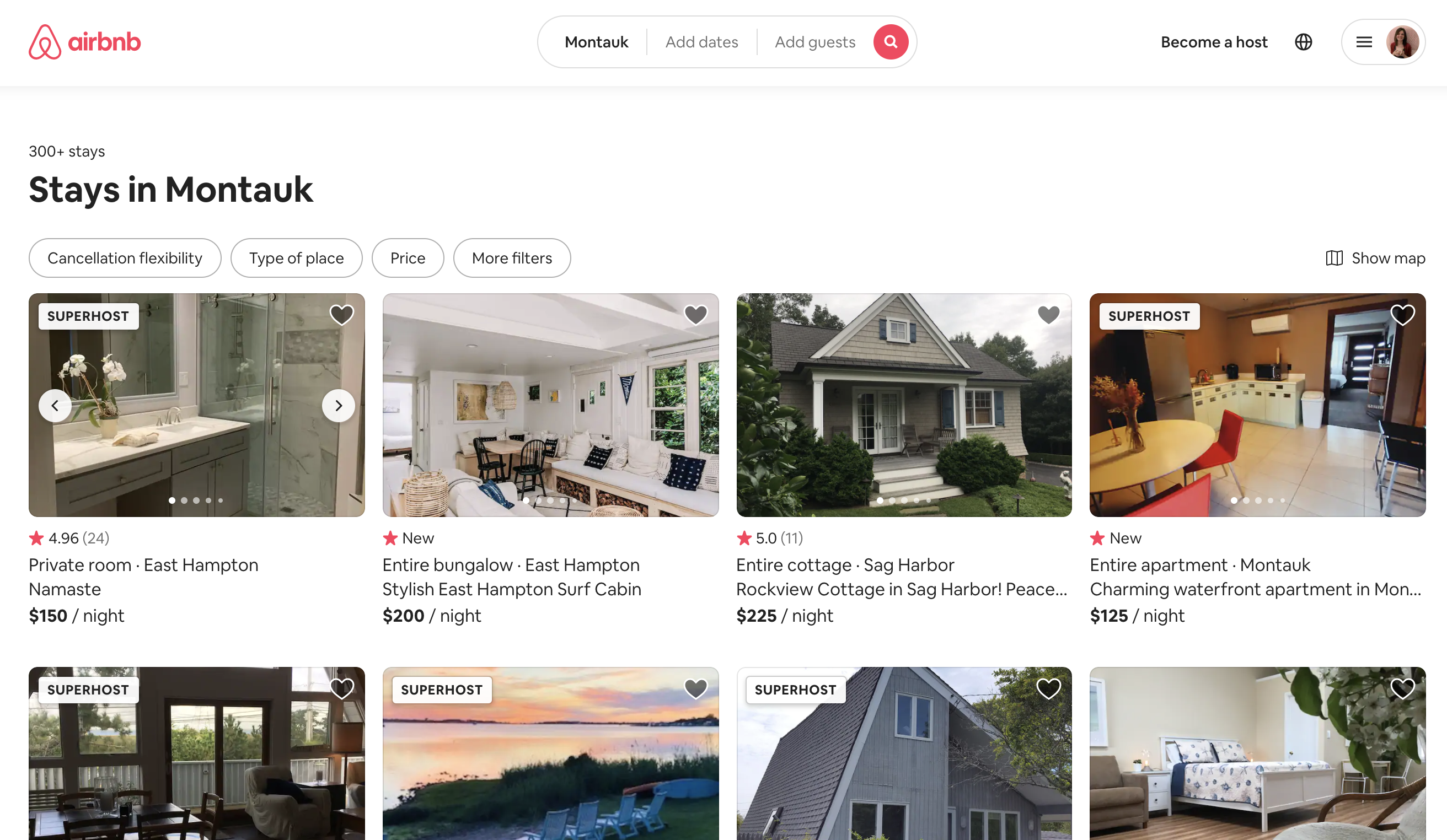 New listings rank high in searches - a great opportunity to get noticed early on!
Start early
Vacation rental platforms like Airbnb prioritize new listings in search results, take advantage of this strategy! Make sure to complete all the steps we covered here before you go live with your listing. Such improvements will help you have a strong start while the platform algorithm is also giving you some extra push to help your business take off!
Related Articles